Festival ao Largo 2019
Concert program
6 july to 21 july 2019
21h30
Largo de São Carlos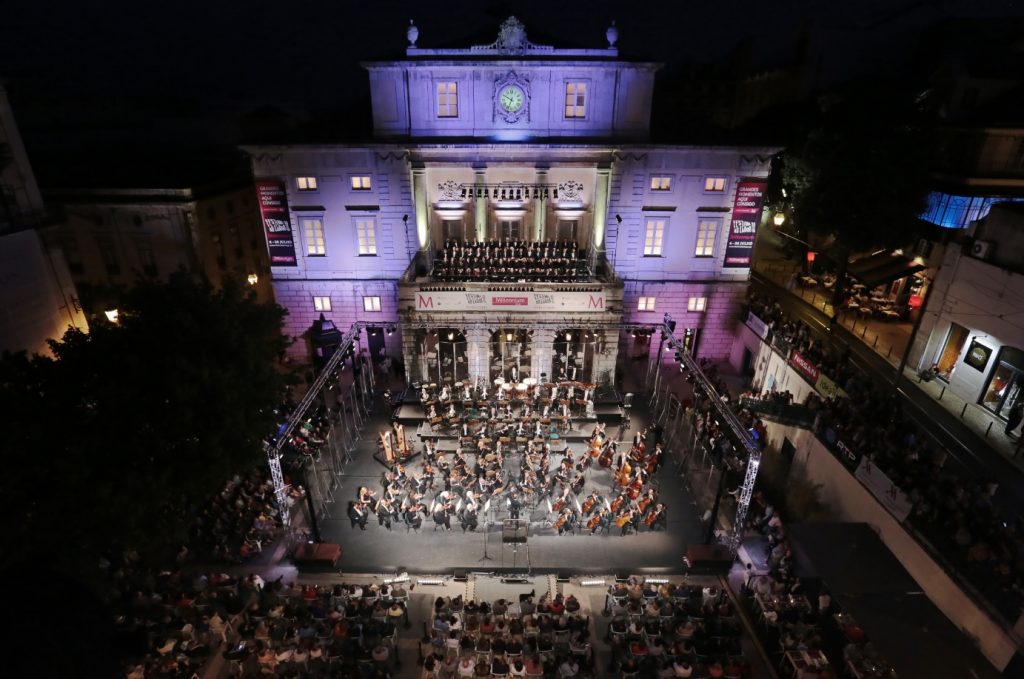 This year's Festival ao Largo Millenium is a combination of opera, songs and symphonic music that embraces the entire musical universe. Bernstein's Broadway will be
side by side with Polish opera and Brazilian songs will meet fado, zarzuela, operatic verismo and classics of the symphonic repertoire.  Festival ao Largo Millenium is an important moment of sharing between the CNB (Companhia Nacional de Bailado) and the public. From contemporary dance to classical ballet, the choice of this year's program falls on works danced throughout this season. All information here.
Concert program:
Teatro Nacional de São Carlos Choir + Portuguese Symphonic Orchestra
Giovanni Andreoli, chief conductor + Joana Carneiro, chief conductor
Wonderful Town [concert version], Leonard Bernstein
6 jul: 9:30 pm
Capella Cracoviensis – Halka Choir and Chamber Orchestra
[concert version], Stanisław Moniuszko
9 July:
9:30 p.m. National Symphony Orchestra of the National Republican Guard
Carnival, op. 92, B169, Antonín Dvořák
Symphony No. 4 in E minor, op. 16 – IV, Joly Braga Santos
Pictures in a exhibition in B Major, Modest Mussorgski
10 July: 9:30 p.m.
Orquestra Metropolitana de Lisboa
Nuno Abreu, cello
Pedro Amaral, musical direction
Concerto for violoncello in C major, Hob.VIIb: 1, Joseph Haydn
Symphony No. 2 in D Major, op. 73, Johannes Brahms
11 July:
9:30 p.m. Portuguese Symphonic
Orchestra Joana Carneiro, chief conductor
Largo – New Order TNSC [world premiere], Carlos Azevedo
Capriccio Espagnol, op.34, Nicolai Rimsky-Korsakov
Symphony No. 8 in F Major, op.93, Ludwig van Beethoven
12, 13 July: 9:30 p.m.
Eduardo Jordão, piano + Luanda Cozetti + Soloists from Lisbon
Brazilian Popular Music
16 July: 9:30 p.m.
Orchestra of the Conservatory + Regional de Artes do Montijo
Fados e Zarzuelas
Teresa Tapadas, fado singer
Luís Gomes, tenor
Ceciliu Isfan, musical direction
17 July: 9:30 p.m.
Gulbenkian Orchestra
André Gaio Pereira, violin
Nuno Coelho, musical direction
18 July: 9:30 p.m.
A Night of Verismo
Cristiana Oliveira, soprano
Carlos Cardoso, tenor
Andrea Sanguineti, musical direction
19, 20 July:
Young Macao Symphony
Orchestra Nancy Zhou, violin
Pedro Neves, musical direction
21 July: 9:30 p.m.
Location: