Temple Time
Ryan Trecartin
15 march to 31 march 2019
running times vary
Museu Nacional de Arte Contemporânea do Chiado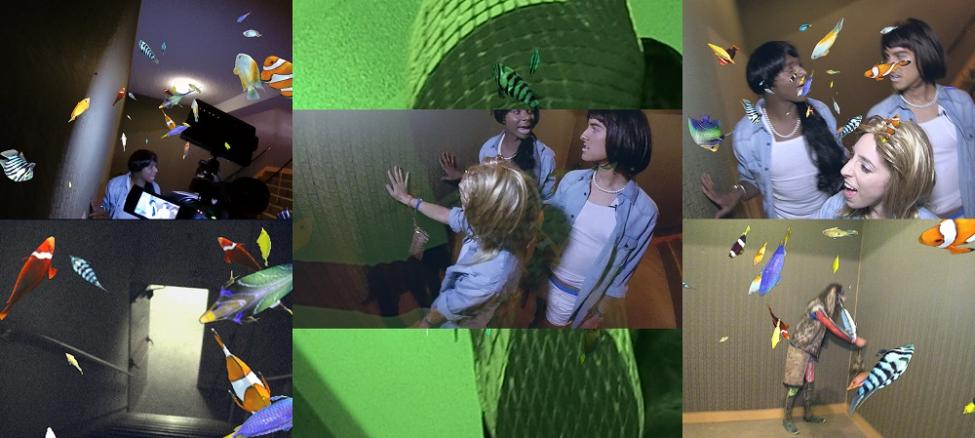 Ryan Trecartin is one of the most innovative video artists today.  Ryan Trecartin's works combine performance art, sitcoms and hypnotic digital collages, as if Bosch and Keith Haring were working together or Facebook was having a nightmare.
Shot in a former Masonic temple in Los Angeles – a five-story labyrinth comprised of large, cavernous rooms, like a windowless convention center – Temple Time unfolds like a horror-movie group expedition to a campsite wasteland. Exploring an alternative vision of eerie wilderness, the characters talk about what they see rather than what they feel, giving the impression that everything they come across is a discovery. For some characters, these discoveries feel like memories of events that are about to happen again – past and future seem to occur simultaneously through overlapping layers of reality. The use of different video capture technologies – including handheld cameras, drones, and GoPro action cameras on the actors' bodies – offers numerous perspectives and vantage points, enhancing Ryan Trecartin's exploration of cinematic discontinuities.
Trecartin works with actors from his own family or circle of friends, offering sophisticated digital manipulations of materials taken from the Internet and pop culture, wild animations, and aestheticized settings and performances. His work unleashes worlds where consumer culture is amplified to absurd qualities or nihilistic proportions, and where characters seek to find meaning for their lives. Through a virtuousic use of color, form, hysterical performance and mind-boggling montage, Trecartin produces sublime effects that are akin to an unknown yet true reality.
Temple Time, 2016
 Digital video, 5.1 soundtrack, duration 54'32, 3D Animations with Rhett LaRue
© Ryan Trecartin
Courtesy the artist, Regen Projects, Los Angeles and Sprüth Magers
Free admission on Sunday until 2 pm.
4,50 €

Location: